Rivets
Sorry for the inconvenience.
Search again what you are looking for
Pocket reinforcer is a kind of sewing metal accessories, which are designed to perform several functions: connection, strengthening and decoration. It is a strong permanent riveting consisting of a head and a leg. When installed on a product, the nail is bent, securely fastening inside the cap.
The most striking example of pocket reinforcer is rivets on jeans pockets. Before becoming an accessory to your favorite clothes, pocket reinforcer was used exclusively to strengthen horse harness. But in 1873, one important event happened in the history of fashion: a patent was issued for the manufacture of trousers, in the corners of the pockets of which metal rivets were installed. Since then, jeans have remained the most popular type of clothing.
Pocket reinforcer rivets
Today they are used not only in the sewing of denim trousers. Pocket reinforcer are used everywhere and we come across them every day. For example, going to a restaurant, you ask for a menu. Look closely and you will see pocket reinforcer . Yes, they are the ones that hold the menu together and give it a complete look.
Pocket reinforceri fittings are also installed on other products:
Camping equipment where bond strength is important.
Denim clothes. Holes are attached not only to jeans, but also to skirts, jackets, overalls and vests.
Leather holders are installed on bags, belts and shoes, watch straps.
Hats.
Folders and brochures.
Pocket reinforcer not only increases the strength of the product, but also gives it a more stylish look . Some types of pocket reinforcers are so unusual that they are used exclusively as decorations on clothing and accessories.
Materials and sizes
The diameter of the pocket reinforcer varies from 3 mm to 12 mm, most often used in the production of 7 mm pocket reinforcer, 5 mm and 9 mm are also found. They can be standard colors (nickel, stainless steel, gold, dark nickel, antique) or painted in any other. It should be noted here that painted pocket reinforcers are less in demand, as they are more expensive, besides, over time, scratches and chips appear on them.
A pocket reinforcer hat can be flat, round, pointed, have a print, contain the name of the company or brand, it can be decorated with stones or glass beads.
Conventionally, pocket reinforcers are divided into two groups: one-sided pocket reinforcers and two-sided pocket reinforcers (pictured). The former have a front part and often a flat seamy side. Such pocket reinforcers find their use in sewing shoes or imitate button fasteners, that is, when the wrong side is hidden and not visible. Reversible looks the same on both sides. They are used to strengthen belts, wallets, bags and other leather or leatherette products.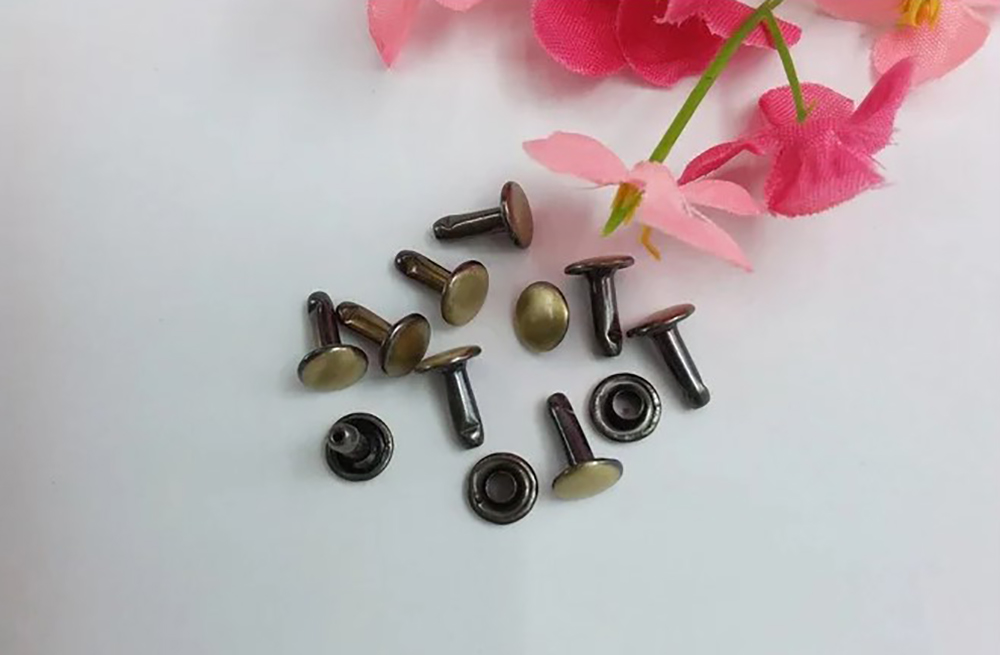 Where to buy pocket reinforcers? To do this, just look through the catalog of our products. In the DA-TEX online store you can wholesale pocket reinforcers of different shapes, colors, diameters and with different leg lengths.